Community Health Workers
A Community Health Worker (CHW) is a trusted individual who contributes to improved health outcomes in the community. CHWs serve the communities in which they reside or communities with which they may share ethnicity, language, socioeconomic status, or life experiences. HUB CHWs are employed by Care Coordination Agencies in the region who partner with the HUB. As of January 9, 2020, Community Health Worker Certification is now available in the state of Pennsylvania through the PA Certification Board.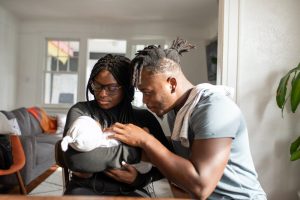 According to the PA Certification Board, a CHW proactively:
builds individual and community capacity by increasing health knowledge and self-sufficiency through a range of activities such as outreach, community education, informal counseling, social support and advocacy;

serves as a liaison between communities and health care agencies;

provides guidance and social assistance to community residents;

enhances community residents' ability to effectively communicate with healthcare providers;

provides culturally and linguistically appropriate health education;

advocates for individual and community health;

provides referral and follow-up services or otherwise coordinates care;

identifies and helps enroll eligible individuals in federal, state, and local private or nonprofit health and human services programs.
If you are Pregnant; live in Cambria or Somerset County; and receive (or are eligible for) Medical Assistance, you QUALIFY for free services.
If you are Pregnant; live in Cambria or Somerset County; and diagnosed with Gestational Diabetes, you QUALIFY for free services.
The Community Care HUB initiative is made possible by funding from 1889 Foundation.